TANK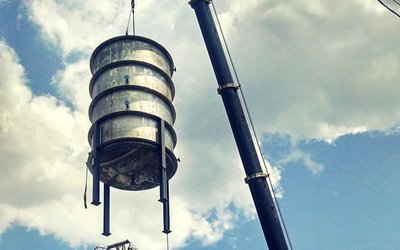 At MMI Tank, we are tank experts. Tanks are our companies name because we're proud of the tanks we build. Our design and fabrication teams have a combined total of more than 100 years' experience designing, fabricating and erecting a variety of tanks for a diverse array of industries.
Our craftsmen can design, build and test in our fabrication facility as well as design, build and test at a remote location. Size is not an issue; MMI can construct tanks unlimited in scope.
We have the in-house capability to cut, roll and weld storage tanks and pressure vessels in a highly-controlled environment. Or we can fabricate, construct and erect tanks in the field. Our crews are extremely skilled at working with carbon and stainless steel and other exotic metals.
MMI adheres to a strict code of safety and environmental codes. We manufacture storage tanks that conform to the American Petroleum Institute (API)-650, American Water Works Association (AWWA)-100, the National Fire Protection Agency (NFPA)-22 and Underwriters Laboratories (UL) standards.
MMI Tank and Industrial Services is the name you can trust to deliver on well-constructed storage tanks, built to code and on time.
Fabrications
ASME Pressure Vessels
Site Built Tanks
Shop Built Tanks
Silos, Hoppers, Bins
Design/Build
API 650 – AWWA – NFPA-22
R, U, & S Stamps
UL 142 Tanks
GMAW (Mig), GTAW (Tig), SMAW (Stick)
In-House CAD Services
Hydro-Pneumatic Tank Inspections
Thermal Energy Storage Tanks